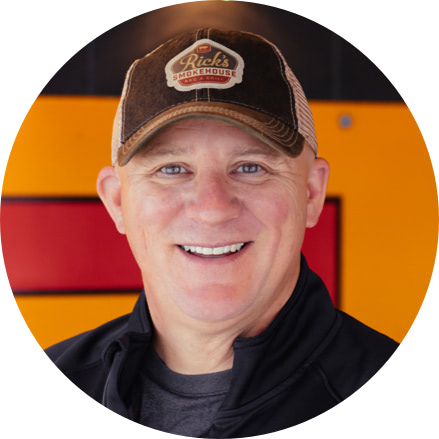 "Dream big, save your money, talk to people who love you and have your best interest at heart, and don't be afraid to fail. It's better to try and fail than to fail to try".
Rick grew up in an entrepreneur family. His father, a construction company owner, brought him into the family business after finishing school at ISU and Central Bible College.
Rick spent many years working the family business with his dad, as well as finding a successful career in the Gospel music industry.
But as life moved on, Rick couldn't shake his passion for cooking and great tasting BBQ. After researching the area and realizing the need for a great BBQ restaurant, Rick left the family business and set out to accomplish his dream.
SMALL TOWN. SMALL BEGINNINGS.
Our BBQ journey started in 1996, in a small Indiana town. Bridgeton, Indiana is located in Parke County, the home of a festival that happens every fall and brings millions of people into the county for food, hand-made crafts and family activities. Always having a desire to start his own restaurant, Rick decided to open a barbecue food stand during the ten day event. Rick introduced the crowds to slow smoked BBQ meats and turkey legs. His stand was a success and the launching pad for his future restaurant. After having success with his food stand, Rick started an on-site catering business in the same year.
In 2008 Rick opened up his first brick and mortar restaurant on Wabash Avenue in Terre Haute, IN. The new location was just a block from where he grew up as a kid. Since opening his restaurant Rick has dedicated himself to his community. Through several events Rick's Smokehouse has invested in the community and the people who make it great. The locals love his slow smoked BBQ and people come from different cities and states just to enjoy their favorite bbq fare.
Rick has also had the opportunity to serve and meet several celebrities because of his award winning BBQ, including: Styx, REO Speedwagon, Florida Georgia Line, Sheryl Crow, Josh Turner, Luke Bryan and Jason Aldean to name a few…along with a few Pro Athletes. Rick's Smokehouse BBQ & Grill has won many awards for his BBQ, including the Clabber Girl Brickyard BBQ, "Vendor of the Year"; The Tribune Star's Readers Choice, "Best BBQ" five years in a row; WTHI's Fork in the Road, "Best Ribs"; and Rock & Roll BBQ Indy, "Best Ribs". However, among all of the awards Rick's received, his most treasured moment is when he was honored by the Educational Heritage Association. During this special event, it was said of him;
"He is a man with a giving heart who provides food for many community groups, charitable organizations and individuals," said Mick Newport, who introduced Burchell at the banquet. "He is a man of passion for his culinary skills. He gave up the construction business to follow his dream of opening his own food business. He is a man who cherishes the legacy of his community."
Today you'll find Rick doing what he does best, crafting mouth watering BBQ and spending time talking to all of our great guests. So stop by and visit us when you get the chance.
Add Some Flavor To Your Inbox
Get Special Offers From Rick's Smokehouse BBQ & Grill